Discover more from Expedite
Restaurant technology and the big ideas shaping the future of hospitality
A techno-optimist walks into a Chipotle
To bet on the future of restaurants, you must first understand their reality
For reasons that will become clear later, I've had restaurant robots on the brain for months. Foodservice robotics don't show up in this newsletter too frequently; I find them reasonably exciting but still impractical, even as our new pals Flippy (a fry-bot at White Castle) and Chippy (who makes tortilla chips at Chipotle) and Sippy (a drink dispenser) and the Autocado (Chipotle's avocado-peeling robot) and even Rita (the one-time Chili's servers) join and, in Rita's case, leave the restaurant workforce. 
I keep quiet about them because… I have trouble wrapping my head around what feels like a fundamental conflict: The reality of restaurant operations versus the sort of optimism required to ascribe the future of foodservice to a bunch of robots. Is this weird? Am I too wrapped up in a practical reality to truly understand the future?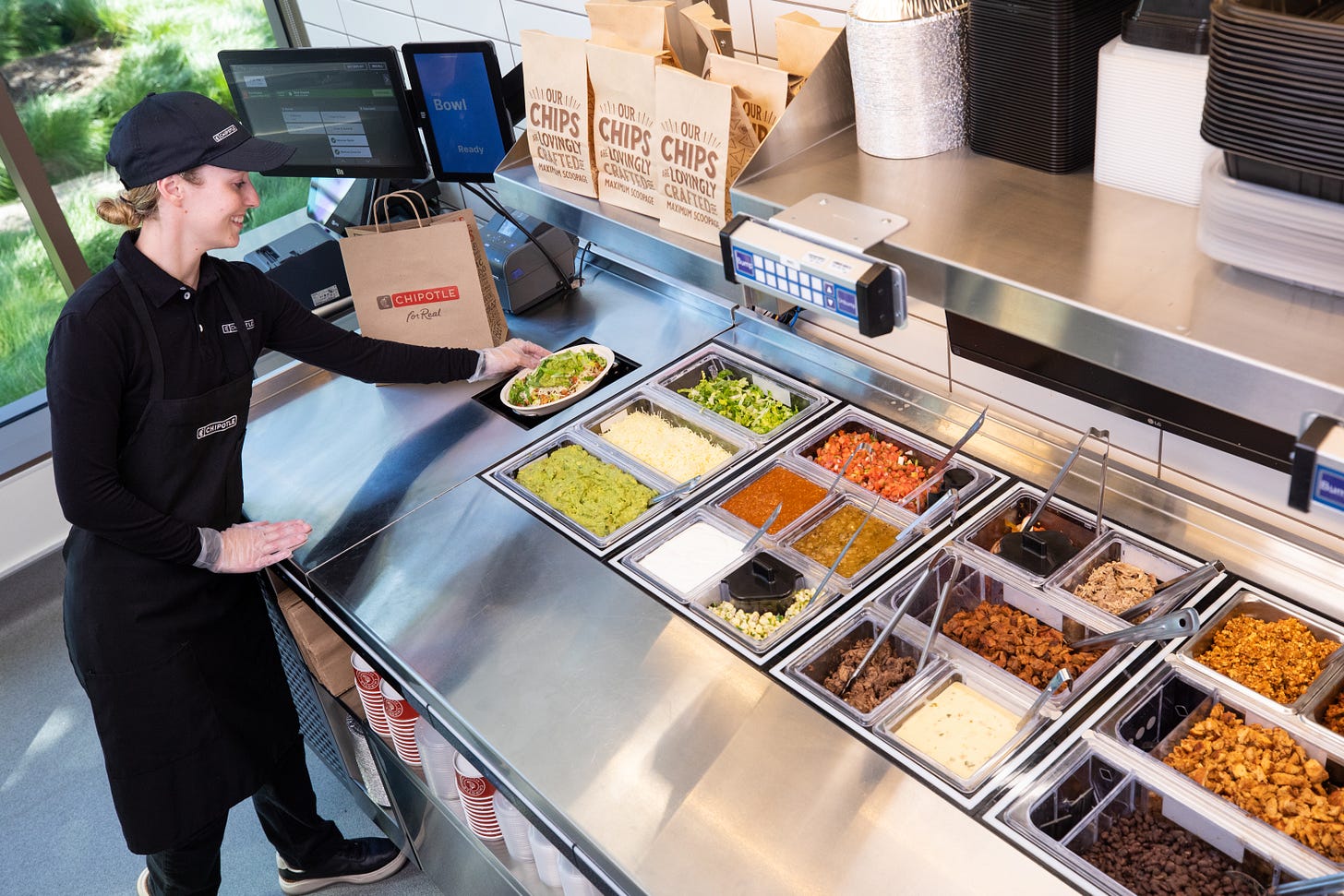 The buzz in tech circles this week is a
5,000-word manifesto
from billionaire investor Marc Andreesen calling for a specific kind of "techno-optimism." 
In Andreesen's view, trust in tech, above all else, will save the world and you're either for it, or you're against it. Andreesen advocates for growth and abundance (and somehow a world that supports 50 billion humans, some of them colonizing other planets), but names themes like social responsibility and sustainability "the enemy." It's an extreme and provocative position by design in an era when any billionaire with a following is labeled a visionary. 
Or, as TechCrunch framed it: "When was the last time Marc Andreesen talked to a poor person? …his dreams are unrealistic, and founded upon a flawed premise that tech exclusively makes the world better." 
I think maybe I've discovered what makes me so uncomfortable about restaurant robots. 
I understand comparing the motivations behind a billionaire's rambling screed to those of the restaurant robotics industry is, at best, a false equivalence.
That's not what I'm trying to do. I'm instead going after a clear example of the tension between a forward-looking tech industry and the very real challenge of feeding people at scale, where it's much harder to look past reality into some imagined vision of what's possible under ideal circumstances. When stakeholders are speaking different languages, how do they find middle ground?
Last week, Chipotle finally offered a peek at its burrito bowl-making bot. The automated assembly line works underneath a countertop, assembling bowls while a human staffer assembles menu items too tricky to automate (for now) — burritos, kids' meals, and quesadillas. The experiment is tied to Chipotle's investment in robotics company Hyphen, which produces the line. The end goal is speed; a human-plus-robot cobotic model means orders can be produced faster. Since 65 percent of the chain's digital orders contain a burrito bowl or salad bowl, employees will save serious time by outsourcing the labor to a robot that hums along beneath them. 
Speed and sales aren't good enough to sell us all on the bots, though. In its press release, Chipotle explains: "As a people-first company, Chipotle is seeking opportunities that will elevate the human experience for its teams as well as increase access and convenience for its guests." [emphasis mine]
Chipotle is big on the experience but light on numbers; it won't say how many bowls it can make nor when — or even if — the robots will staff a Chipotle near you. If it does join the kitchen staff, Chipotle's chief customer and technology officer Curt Garner says the automation in Chipotle's kitchens won't be visible to its customers. 
That's not the case at one of Sweetgreen's 220-ish locations, where a robot makes salad bowls in suburban Chicago. 
Sweetgreen's "Infinite Kitchen" is on full display to anyone who walks in the door. Sweetgreen's CEO has said that it'll deploy the bots at all of its stores within five years in a hopeful reversal of fortune; the pandemic hit Sweetgreen's urban business hard and the company has struggled to recover. Salad robots in the suburbs might be its only way forward. 
"A lot of other companies are trying to figure out how to add automation to their experience and are not willing to start over," chief executive Jonathan Neman told a Wall Street Journal reporter recently while eating a salad inside the restaurant. "I'm willing to blow the whole thing up." 
As WSJ coverage notes, Wall Street is into the robots but questions how practical and pricey they'll be to deploy. But Neman's willingness to disrupt the fancy salad business — which he had a hand in creating — in order to secure Sweetgreen's foothold as a growing restaurant brand is a fascinating risk. Especially since success seems predicated on his robots' ability to keep crumbling goat cheese atop its salad bowls, an apparently tricky automated task that took two years to engineer. 
Of course, the people who are building robots are a self-selecting group, optimistic about changing the way we do things, now and into the future. 
They understand that our "now" isn't the end of time, and that in order to sell the idea of big change inside an industry that's been historically resistant to huge tech shifts you have to talk about the "later." In this particular case, the people that put robots inside of restaurants want you to know that, yes, they're replacing human jobs but really they're elevating the human experience.
I guess that's one interpretation of Andreesen's techno-optimism, encouraging the naysayers to get out of the way while the technology forges ahead. The bots portend a future of optimization, productivity, perfect portions, consistency, and cost savings, serving the greater goals of scale and efficiency. Robot Chipotle will not honor your cheeky TikTok hacks nor heartfelt requests for just a smidge more guac. There's no time for nuance or subtlety or questions — nor any real joy, surprise, or delight. 
Except maybe there is.
Chippy, now deployed in one California Chipotle location, was programmed to make imperfect tortilla chips. Perfection, it seems, would be a step too far, even if the imperfection is scripted. 
"To ensure we didn't lose the humanity behind our culinary experience," Chipotle's head of culinary said in a statement last year, "we trained Chippy extensively to ensure the output mirrored our current product, delivering some subtle variations in flavor that our guests expect."