Don't block the bike lane!
How the city of Boston is testing the future of local delivery, a Q&A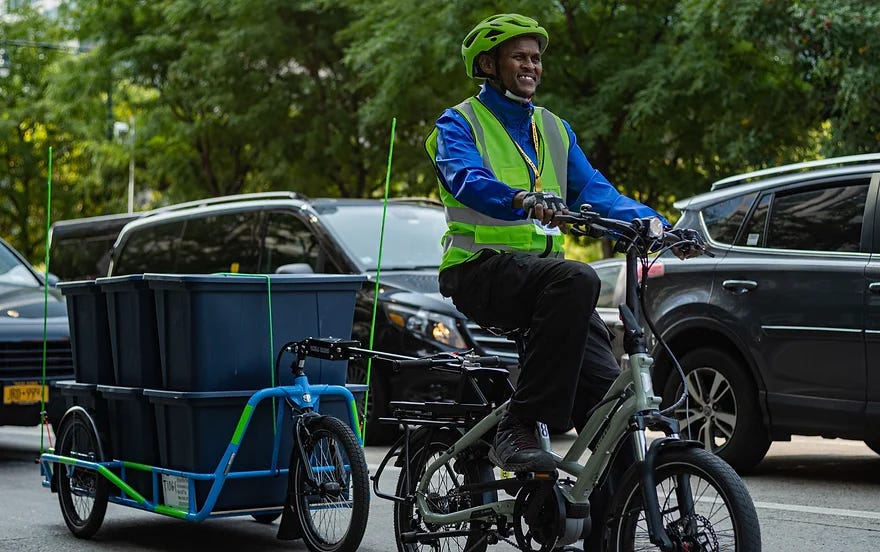 A week ago, I moderated a panel about micromobility in delivery. That is: making local deliveries with modes of transit that aren't cars; most on two wheels. The topic is tangential to restaurant tech, but also 
Harper Mills is program manager for the Boston Transportation Department. Mills sat on last week's panel to explain and promote Boston Delivers, a pilot program that's hoping to help restaurants and couriers embrace new methods of delivery. Fascinated by the idea, I asked to talk again. I think a lot about delivery technology. I probably don't think enough about evolving delivery logistics.
Boston Delivers is partially funded by a grant from the Massachusetts Clean Energy Center. It was launched this fall, with goals of supporting local businesses, reducing pollution, easing traffic congestion caused by popular delivery services, and improving street safety. It's scheduled to run through the end of next year, winter included. 
The program is in its earliest days, but is an interesting example of how cities are bending to accommodate the delivery boom. The program in Boston joins initiatives in other cities helping couriers embrace alternate forms of transportation with an eye toward safety and sustainability. This year, New York City partnered with Uber on buyback programs to get old and potentially dangerous ebikes off the streets, and this summer it received $25 million in emergency funding to build 173 safe outdoor charging sites. In San Francisco, a program announced earlier this year is supplying ebikes to couriers to measure the effects on delivery efficiency and worker revenue, presumably to encourage a shift away from delivery by car.
All of this is because of growing demand for delivery, and not just from restaurants. According to recent survey data from DoorDash, 62 percent of people are buying "consumables" (defined as groceries, personal care products, flowers, and similar) online more frequently than they were a year ago; over 80 percent of them are buying on third-party app or website. 
Third-party delivery keeps pushing to grow beyond restaurants. We'll get progress reports from both Uber and DoorDash as they report quarterly earnings over the next two weeks, but I suspect they'll confirm continued growth in new verticals.
Of course, growth in services means growth in stuff. It's fun to talk tech, but it's important to innovate on logistics, too. 
Expedite: The Boston Delivers program is only a few months old, but you're doing something interesting. Can you tell me about it?
Harper Mills, Boston Transportation Department: "We are using grant funds to fund and contract with a private e-cargo bike operator called Net Zero Logistics to operate a delivery service for small businesses in the Allston neighborhood of Boston, to start. The thought is that this is a way to help kickstart the adoption of cargo bikes in Boston while supporting an important small business district. We went through an RFP process and chose Net Zero as our vendor; most of the funding is going toward building out their staging location." 
I've been to Boston exactly twice, what makes Allston a good place to start?
Keep reading with a 7-day free trial
Subscribe to Expedite to keep reading this post and get 7 days of free access to the full post archives.